Alabama Forestry Association releases first House approval list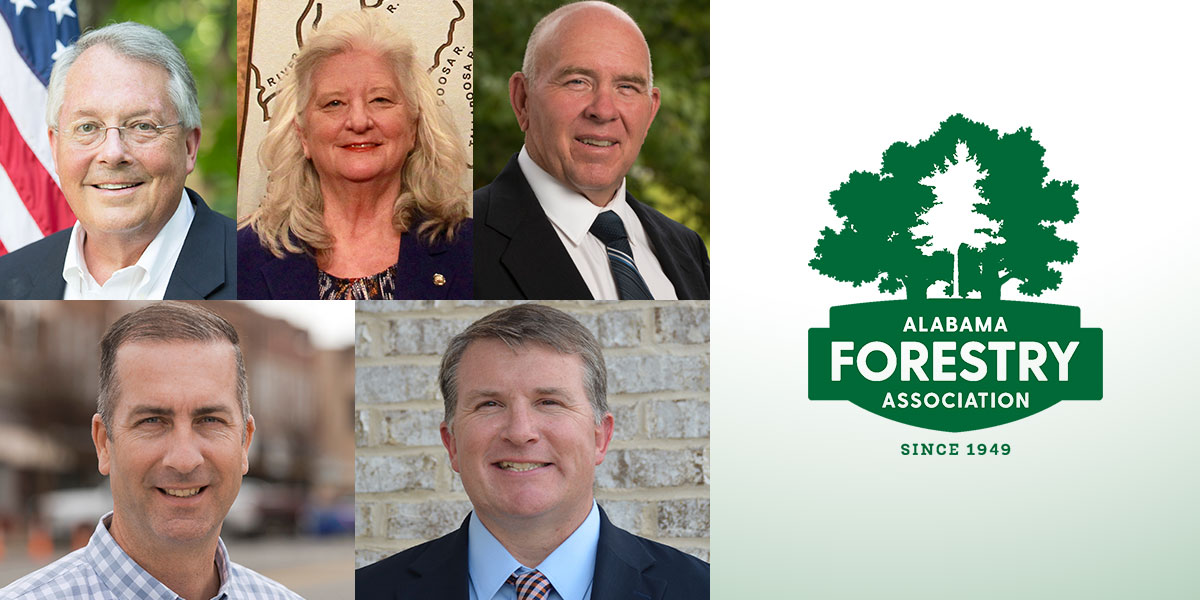 On Thursday, the Alabama Forestry Association (AFA) announced its endorsement of five incumbents seeking re-election to the Alabama House of Representatives.
State Representative Joe Lovvorn (R-Auburn)
Lovvorn is seeking re-election in House District 79, which covers part of Lee County. He is chairman of the House Technology and Research Committee and vice-chairman of the House Ways and Means Education Committee.
The legislator recently retired as chief of the City of Auburn Fire Department. Lovvorn is a realtor and small business owner.
Lovvorn expressed his gratitude to the association for endorsing his re-election bid.
"As the grandson of a sawyer and the son of a logger, I was raised to appreciate the positive impact of the logging industry in Alabama," Lovvorn said. "I value and appreciate the endorsement of the Alabama Forestry Association, and look forward to serving Alabama for another four years."
State Representative Arnold Mooney (R-Indian Springs)
Mooney, chairman of the Shelby County Legislation Committee, is seeking re-election to the House of District 43. Mooney has more than four decades of experience in the commercial real estate industry.
Mooney emphasized his appreciation of the AFA because of the association's conservative political advocacy.
"I am very pleased to receive the endorsement of such a remarkable organization as the AFA," Mooney proclaimed. "The forestry industry is a multi-billion dollar contributor to the economy of our state and Shelby County, where my district is located. The AFA and its members uphold conservative values ​​and principles and are pro-business and pro-free enterprise. They also advocate for fiscal responsibility, private property rights, and limited government. I am proud to be by their side!
State Representative Tommy Hanes (R-Bryant)
Hanes is seeking a third term to represent House District 23, which encompasses Jackson County. He is a member of the House Agriculture and Forestry Committee.
The retired professional firefighter was widely recognized for his Conservative voting record in the lower house. The American Conservative Union ranked Hanes' 2020 voting record as the second most conservative in the Alabama Legislature.
Hanes hailed the AFA's endorsement of his re-election campaign and applauded his advocacy of conservative causes.
"I am once again honored to receive endorsement for re-election from what is considered the most conservative group in the state," Hanes said. "It's great to be in such great company as the Alabama Forestry Association!"
State Representative Margie Wilcox (R-Mobile)
Wilcox is seeking re-election to House District 104. She was first elected to represent the Mobile County District in 2014. Wilcox serves as chair of the House Joint Transportation Committee. The legislator owns Mobile Bay Transportation and Pensacola Bay Transportation.
The Mobile County legislator praised the AFA for promoting policies it said had served to improve the quality of life for Alabamians.
"I'm honored to be supported by Alabama Forestry, which represents thousands of hard-working Alabamians," Wilcox said. "Their conservative principles are near and dear to my own beliefs, and I look forward to continuing our efforts to protect Alabama's conservative values, low taxes, and incredible quality of life."
State Representative Jamie Kiel (R-Russellville)
Kiel, a freshman lawmaker, is running for re-election in House District 18. The district includes parts of Colbert, Lauderdale and Franklin counties. The legislator is a graduate of the University of Alabama and owner of Kiel Equipment, which he has operated for nearly three decades in Russellville.
"I am honored to be endorsed by the Alabama Forestry Association. The AFA works hard for a fiscally conservative policy in our state," Kiel advised. and responsible spending. I will continue to fight for the hard-working forestry companies that are a key part of our state's economy.
The primary election is scheduled for May 24, 2022.
Dylan Smith is a staff writer for Yellowhammer News. You can follow him on Twitter @DylanSmithAL