Alton Line Users Association votes to disband – same night as rail strike confirmed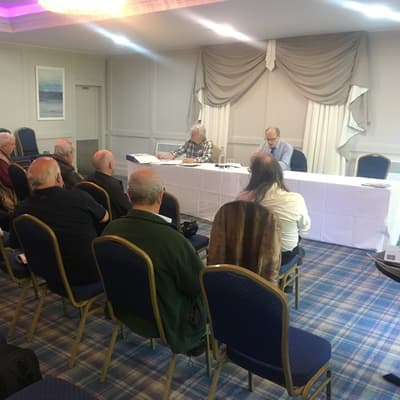 The association of users of the ALTON line is no more. After 48 years of fighting for the rail passenger corner using the stations between Alton and Ash Vale, the association's remaining members voted to disband at Tuesday evening's annual meeting, held at the Alton House Hotel.
The association's sad end was confirmed after no nominations were received for the key positions of chairman, secretary and treasurer on the committee – and on a dark night for local commuters, it coincided with the vote of members of the RMT union for a national railway strike.
The National Union of Rail, Maritime and Transport Workers' strike ballot saw 89 per cent in favor of a strike and 11 per cent against, with walkouts now scheduled across Network Rail and 13 rail operating companies , including South Western Railway from mid-June.
RMT's Mick Lynch said "members want a decent pay rise, job security and no mandatory layoffs". But the Department for Transport said it was 'extremely disappointing and premature for the RMT to call for industrial action before even starting discussions'.
Created in 1974 by Honorary Chairman Chris Campbell to keep the Farnham-Alton line open, the Alton Line Users Association (ALUA) has always been listened to by Network Rail and South Western Railway until the end.
But it has seen its membership dwindle in recent years, accelerated by the pandemic, and the association's chairman, Farnham man David Jones, had still not been replaced after his death in 2021.
Councilor Graham Titteringham, Alton City Council's representative on the ALUA Committee, acted as interim chair of the annual meeting and thanked "all ALUA Committee members, present and past, throughout his nearly 50 years of action to maintain our line", describing his work as an "honorable and worthy tradition".
Representation of the interests of Alton line commuters will now fall to the Friends of Alton Station and the new Alton Line Community Rail Partnershipannounced by South Western Railway last week.
ALUA members decided at the annual meeting to donate its residual funds, just under £1,000, to Railway future"Britain's leading independent organization campaigning for a bigger and better railway", with the understanding that its values ​​and aims coincide with those of ALUA.
It was decided at the annual meeting that the donation should be vested for the exclusive use of the Wessex group of Railfuture.