Belarusian police continue raids on newsrooms, target journalists' association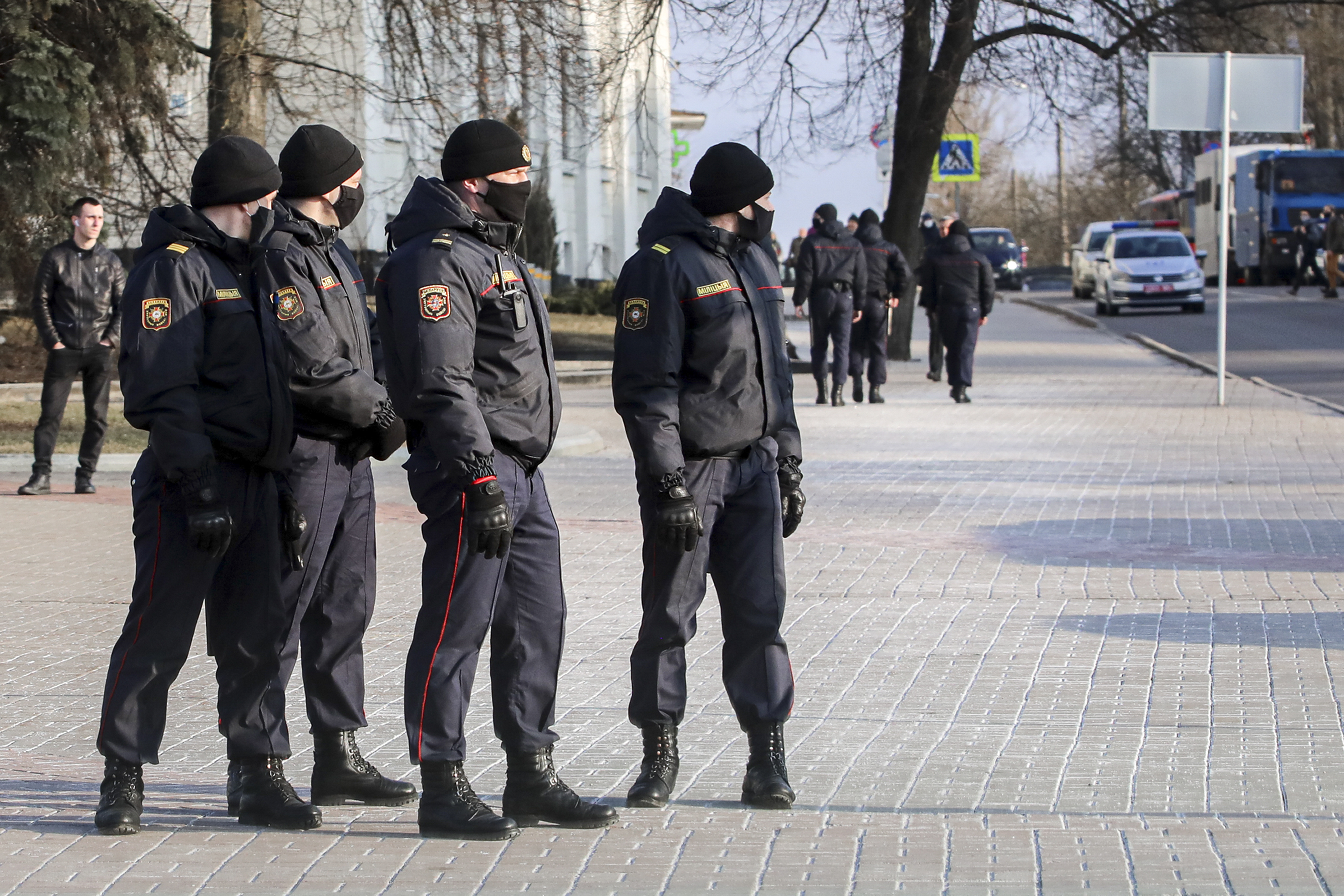 Stockholm, July 15, 2021 – Belarusian authorities must stop raiding independent media outlets and press freedom groups, and refrain from charging or imprisoning journalists for their work, a said today the Committee to Protect Journalists.
Early yesterday morning, Belarusian law enforcement agents raided the Minsk headquarters of the Belarusian Association of Journalists (BAJ), a local rights and trade organization, according to press reports and the deputy director. BAJ, Aleh Aheyeu, who spoke to CPJ in a telephone interview.
Last week, CPJ documented law enforcement raids on at least three news outlets and the arrest of at least seven journalists. Since then, officials have raided the offices of at least four other outlets and harassed more than 20 journalists, according to reports and reports published on BAJ's website and the Telegram channel.
Belarusian authorities have repeatedly cracked down on the press since protests swept across the country following Alexander Lukashenko's disputed victory in the August presidential election, as documented by CPJ. In a meeting with Russian President Vladimir Putin in St. Petersburg on July 13, Lukashenko said authorities were actively pursuing civil society organizations "and so-called Western media", according to reports.
"The ruthless raids on independent journalists and advocacy groups in Belarus demonstrate that President Alexander Lukashenko intends to shut down critical reporting altogether," said Robert Mahoney, deputy executive director of CPJ, in New York. "The Belarusian authorities must stop this campaign of repression, immediately release all journalists in detention and stop harassing members of the press. "
Aheyeu told CPJ that a BAJ employee arrived at the association's office at 10 am yesterday and found a sign posted on the door, the lock of which was broken; the sign, from the Home Office, indicated that no one was allowed to enter the office.
No BAJ staff have returned to the premises for fear of possible arrest, he said, and authorities have not disclosed any information or reason for the raid. Aheyeu said he was not sure if the police seized anything from the office.
Aheyeu added that no representative of BAJ or of the company that owns the building was present during the search, as required by law, and that the association intended to lodge a complaint with the Belarusian commission of inquiry.
Also yesterday, authorities raided at least 15 other civil society organizations, including the Belarusian PEN Center, the local branch of the international organization for freedom of expression, according to reports.
On July 9, law enforcement agents raided the editorial offices of the independent news site. Silnie novosti in the southeastern town of Homel; independent newspaper Hantsavitsky Chas, in Hantsavichy; and independent news site Inform-progulka in Luninets, and seized equipment and documents, according to reports, BAJ and articles on Telegram by Silnie novosti.
On that date, law enforcement officers also searched and confiscated equipment and documents from at least 17 journalists and media professionals at their homes, according to these sources, including:
Piotr Kuznyatsou, founder and director of Silnie novosti
Hanna Yakshtash, editor-in-chief of Silnie novosti
Irina Volskaya, editor of Silnie novosti
Pavel Kuznyatsou, Natallya Suslava, Yuriy Hlushakou, Katsyaryna Teliman, Alyaksei Shkurau, Sniazhana Pahodzina and Dzyanis Yaktash, reporters at Silnie novosti
Pavel Doylid, editor-in-chief of the independent news site Pershiy region
Aleh Supruniuk, editor-in-chief of Pershiy region
Andrei Kukharchik, editor-in-chief of the news site Virtually Brest
Maksim Klyabets, journalist at the independent news site Natatnik.by
Nastasya Zanko, journalist at the independent news site Onliner.by
Maryna Mauchana, journalist at the independent news site Bobruyskiy Kurier
Anatol Hatouchyts, independent journalist
During these raids, the police also targeted Yauhenia Kryshchuk, publicity manager at Silnie novosti, these sources said.
Police interrogated Zanko and Supruniuk and released them later the same day, the sources said. Aheyeu told CPJ he did not believe the other journalists had been detained and that to his knowledge none of them had been charged with a crime.
On July 13, law enforcement agents raided the editorial staff of the news site. Mahilyou region at the home of its editor, Zmitser Salauyou, seized computers and other storage media, and summoned Salauyou for questioning the next day, according to the same BAJ dispatches and information.
Agents in Brest also raided the homes of Darya Harashchanka, editor of the online magazine. Binokl; Ksenia Pyatovich, editor-in-chief of the magazine; and freelance photographer Volha Latyshava, the sources said.
Authorities took Harashchanka to Leninskiy District Police Station for questioning, then released her and confiscated her phone, the sources said. Aheyeu told CPJ that none of the journalists searched on July 13 has been formally charged with any crime.
Also on July 13, police raided the home of Silnie novosti accountant Anna Strelchenko, seized equipment and documents, and took her to a local police station for questioning, before releasing her without charge, according to the same sources and Aheyeu. Today, the outlet announced that its website is experiencing technical issues.
Four of those arrested in the raids documented by CPJ on July 8 – Yahor Martsinovich, editor of the independent newspaper Nasha Niva; the marketing director of the point of sale, Andrei Skurko; and editor of the affiliate publication Nasha Historia, Andrei Dynkol as well as the chief accountant of the newspaper Volha Rakovich – remain in detention, according to BAJ and reports, which said they were accused of organizing or participating in actions seriously violating public order.
Nasha NivaThe editorial team has moved out of the country and continues to publish online, according to these reports.
Security officials allegedly beat Martsinovich during his arrest, causing him a head injury, according to reports that an ambulance had been called for medical treatment.
Police previously raided BAJ headquarters in February as part of an investigation into alleged public order violations, as CPJ documented at the time, and Aheyeu said he It was likely that yesterday's search was part of a similar investigation.
Those found guilty of breaking the order can face up to three years in prison under the Belarusian penal code. It is still unclear whether any of the association's staff faces charges under this article, he said.
Aheyeu described the raid at the BAJ headquarters as "insane", as the authorities already have access to almost all of the association's files after the February raid and a June request from the Ministry of Justice to hand over thousands of documents dating from 2018 for audit. .
Aheyeu told CPJ that the Justice Department informed the BAJ today that it had received a "warning" following the audit, and that two warnings in the space of a year could result in the 'cancellation of the organization's registration.
In addition, the authorities today extended the detention of 15 employees of the independent news site. Tut.by, according to reports. Minsk police arrested more than a dozen Tut.by staff members in May, as part of an investigation into an alleged tax evasion of the outlet, as CPJ had documented at the time.
CPJ emailed the Belarusian Investigative Committee and called and emailed the Interior Ministry for comment, but received no immediate response.
[Editors' note: After the publication of this article, CPJ received an error message stating that the email seeking comment from the Interior Ministry was not delivered. This article has been updated to reflect that CPJ also called that office for comment.]