Black History Month Industry Spotlight: Lorne Edwards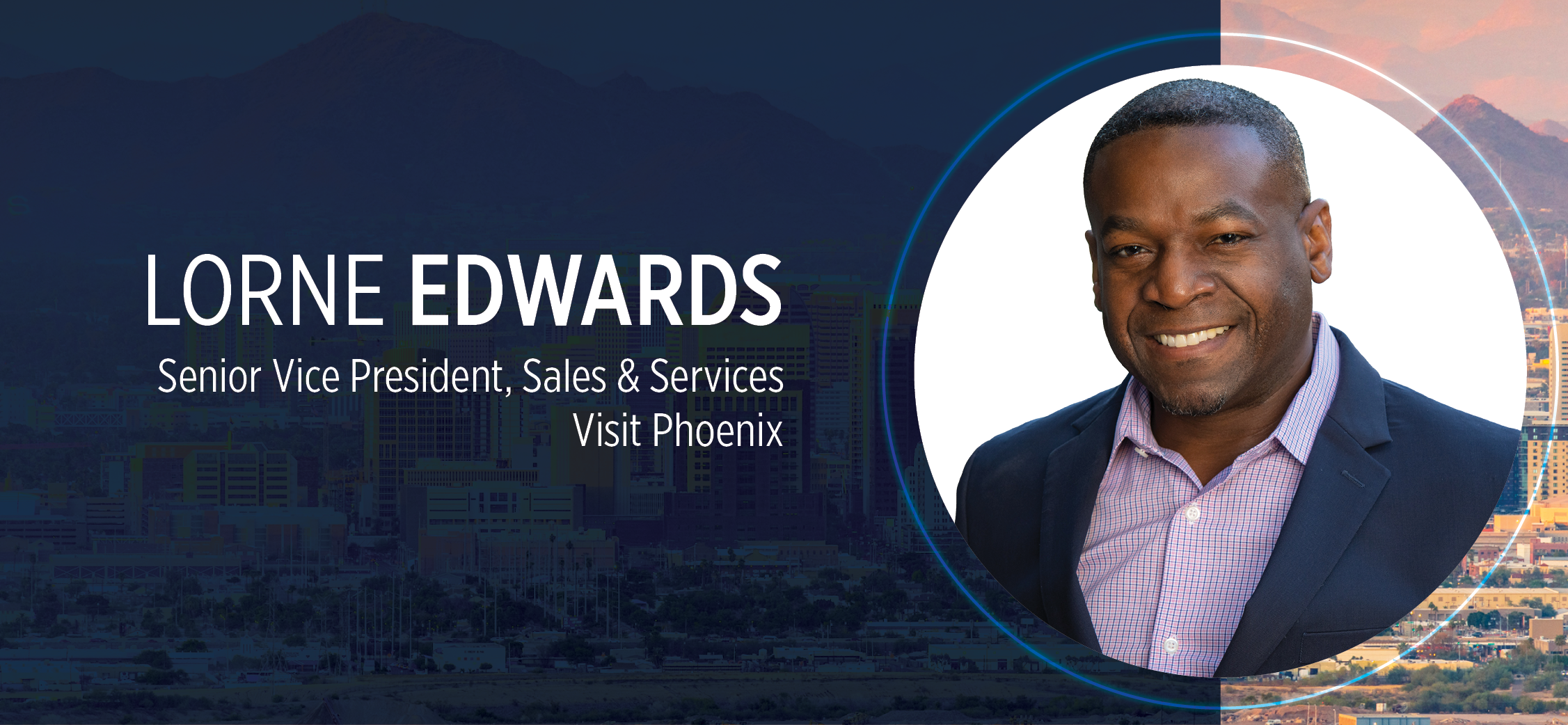 February is Black History Month, an important occasion to recognize the achievements of black people across the country.
Throughout the month, we spotlight our black colleagues in travel and highlight the importance of their contributions to the industry.
Lorne Edwards, Senior Vice President, Sales and Service, Visit Phoenix, spoke to us about what Black History Month means to him and shared his thoughts on how the industry can continue to work towards a more diverse, equitable and inclusive future.
What does Black History Month mean to you and how do you celebrate it?
I have chosen to view Black History Month as a time of reflection and celebration. A moment to reflect, not only on the remarkable contributions, but also on the sacrifices made by black people around the world for the betterment of society today and tomorrow. It also reminds me of the responsibility I have, first, as the father of my four young biracial children, to guide and support their aspirations to be their unbridled best in life and in their chosen business with humility and kindness. But also, my responsibility as a leader and the role I must continue to play in influencing meaningful and substantial change within this industry.
I love music and have a whole library of musical genres from different eras featuring black artists. But it's a way to celebrate all the time, not just during Black History Month. Teaching my children about the iconic and influential black characters of Bob Marley, Dr. Maya Angelou and Dr. Martin Luther King, Jr. are very special celebratory and memorable moments that I love to share.
Can you tell us about a model that inspired you?
It's easy to lean on iconic black historical figures who have inspired me, such as Dr. Martin Luther King, Jr., Dr. Maya Angelou, Nelson Mandela and Bob Marley, who will always remain groundbreaking and transformative figures in my spirit.
That said, I have only to look to my parents, Clarence and Jean Edwards, who remain hugely influential to me. Both were respected educators, influencers, and pillars of the community who placed great importance on education, humility, civility, and piety, although I remember sometimes walking away from some of these principles in my stubborn youth. They also had a great sense of humor and often found the madness in life and made sure we didn't take ourselves too seriously. I can say that their inspiration has remained the foundation for shaping who I am today, and I hope I can pass those same principles on to my children and anyone in my sphere of influence.
What are some of the biggest challenges you see for emerging black professionals in the industry and what are the recommendations to help address those concerns?
I remember when I started in this industry over 25 years ago, seeing – let alone knowing – a black industry leader was a rarity. We had to search very far and when you found one, I could probably count them on one hand. Imagine what it was like for those very few people back then. That said, these are some of the people I've asked for advice. I often reminisce with many of my black industry colleagues reminiscing about our early days in organizations like the National Coalition of Black Meeting Planners and reading about what "we" were doing and ways to engage and to get involved in Sol & Glo Herbert black meetings and tourism. . While we've come a long way in a relatively short period of time, and notable progress has been made in the past couple of years, there's still a lot of work around which this industry can coalesce.
At Visit Phoenix, we have made measurable progress with our own DEI committee, which I co-chair, and also recently launched a collaboration with the National Diversity Council to help guide our actions and actions. We also now have a very engaged EDI committee at our board level and we are taking steps to further evolve our board composition. I also encourage others to support Tourism Diversity Matters and its ongoing initiatives to bring about and support the changes our industry needs.
Ensuring the creation of executive mentoring and career preparation pathways is something that all of our industry acronyms should play a measurable role in developing, evolving and sustaining. Amplify a powerful narrative so that our young people can make a journey from the classroom to the boardroom. Making this an achievable global initiative that is backed by executive and political will at all levels of influence is the challenge that remains for all of us, myself included.
What would you like the travel industry to do better to elevate and embed diversity, equity and inclusion in corporate cultures?
As the saying goes, what can't be measured can't be done. We must become inherently intentional to invest in, support and promote industry pathway programs within the early curriculum. Somewhere in the world right now there is a family going on vacation or someone going to a conference – it is indeed the biggest industry in the world and everyone, regardless of color, the race or the person he loves, must have access and the possibility of having flourishing careers. This can be done by the power to travel.
What historical destinations do you recommend for travelers who want to learn more about the Black experience in the United States? (African Diaspora, HBCUs, etc.)
Having lived and visited several cities across the country, as well as my Caribbean (Antiguan) roots, I feel very lucky to have had many cultural experiences through the visit. The National Museum of African American History and Culture in our nation's capital is definitely a must-see. I also enjoyed the Martin Luther King Historic Tour and took visitors when I lived in Atlanta.
But I would be remiss if I didn't take the opportunity to salute Phoenix and invite everyone to come and learn about the black history of Phoenix and the West. A visit to Eastlake Park which has historical significance to the black community here, including what remains of the site of the June 19th celebrations. Churches such as Tanner Chapel, First Institutional Baptist and other congregations have been hubs of Phoenix's black community for decades. Martin Luther King, Jr. spoke at Tanner Chapel in 1964, and President Lyndon B. Johnson campaigned there the same year. Also, the George Washington Carver Museum and Cultural Center, formerly known as Phoenix Union Colored High School, which opened in 1926.
After all that touring, I would definitely recommend a respite at Mrs. White's Golden Rule Cafe for delicious meals. Please check https://www.visitphoenix.com/stories/post/mrs-whites-golden-rule-cafe/ for more stories and all the big happenings around Greater Phoenix.