Foroyaa Workers' Association Holds Annual General Meeting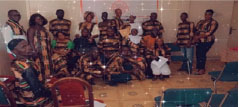 FoWA was founded in 2014 and revised in 2018. Since 2018, it has held general assemblies and executive congresses every two years. The association aims to bring all Foroyaa workers under one umbrella and serve as a common platform to discuss their welfare.
According to officials, in 2021 FoWA had a total revenue of D11.09.06. The association has three accounts which include the main account, the social account and the loan account.
FoWA has a committee that manages the issuance of loans. It grants loans to members with a flexible payment schedule.
Amie Sanneh-Bojang, President of FoWA described the AGM as important for the association. She said the meeting allows members to discuss achievements, challenges and the way forward for the association.
President Sanneh-Bojang said that one of the main activities of FoWA is to provide loans to members to meet their financial constraints. According to her, this does not happen in many Gambian media houses. she therefore urged other media to emulate FoWA.
She thanked Foroyaa management for always supporting FoWA and working cooperatively with all staff.
Yankuba Jallow, Secretary General of FoWA, described Foroyaa newspaper as an exemplary news house in the media fraternity. He commended the management of Foroyaa under the leadership of Samuel Sarr for their continued support to FoWA.
Jallow renewed his call to Foroyaa workers to stay united and work collectively to ensure the sustainability and progress of the association. "We cannot afford the luxury of division. Our unity is our strength. We have a member cooperative," he added.
He announced that FoWA was working to secure funds to train Foroyaa staff in radio production and parliamentary reporting.
Muhammed S. Bah, President of the Gambia Press Union (GPU), said there is a greater need for Gambian journalists to form associations in their various media houses. Such associations, he said, would help workers speak with one voice and fight peacefully for their rights.
Mr. Bah, also a staff member of Foroyaa, said that at one point, the management of the Foroyaa newspaper did not pay the salaries of its staff on time and that some staff members did not receive letters of dismissal. employment, but added that when FoWA stepped in, all was well at the institution.
Mr. Bah described the association of media workers in media houses as right-wing fighters but not rebel groups vis-à-vis the management.
Samuel Sarr, editor of Foroyaa newspaper and radio station, urged Foroyaa staff to show a high sense of professional commitment to their work, as required. He said journalists need to take risks to ensure they get the information they need. "You have to be objective and not get carried away by the money," he advised.
He assured them that Foroyaa would put their welfare first and added that the institution would revamp its lending program and support FoWA financially.