Key Education Bills Await Governor Hogan's Action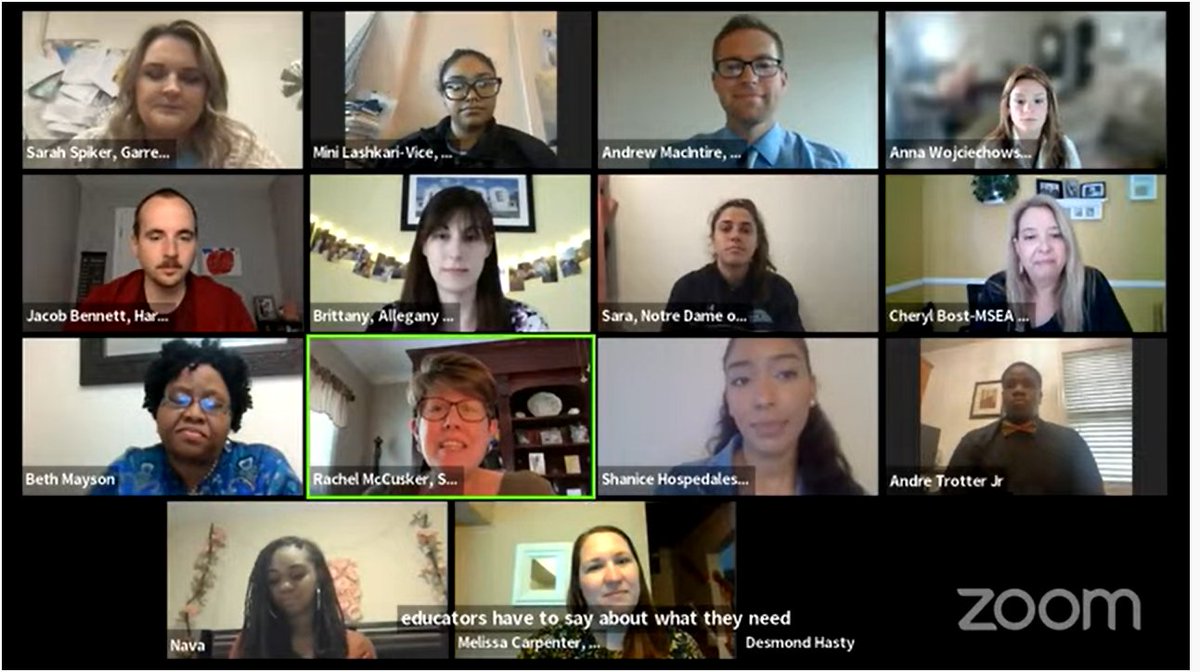 And other legislative updates in this month's Up the Street
THIS MONTH IN ANNAPOLIS
Hogan has yet to act on anti-discrimination, education support professional salaries and virtual education bills
Some hard-won legislative achievements that the MSEA has fought for on behalf of students and educators have passed this year and await Governor Hogan's action.
House Bill 850, sponsored by Delegate Jheanelle Wilkins (D-Montgomery), prohibits all schools that receive public funds from discriminating on the basis of race, ethnicity, color, religion, sex, age , national origin, marital status, sexual orientation, gender identity or disability. The urgency to provide such protection could not be greater.
Similarly, Hogan did not sign the Senate Bill 831, sponsored by Sen. Craig Zucker (D-Montgomery) and House Bill 1349, sponsored by Delegate Shaneka Henson (D-Anne Arundel), legislation to recognize the work of ESPs with well-deserved bonuses. The MSEA sees this legislation as the next step, but far from the last, in improving the salaries of ESPs. The MSEA has made this legislation a priority to address the PSC recruitment and retention crisis. ESPs are essential to the day-to-day running of our schools, whether they drive buses, prepare and serve meals, assist in the classroom, maintain buildings and technology, maintain records and implement protocols, or any of many other essential roles they perform.
The final version of the bill, which passed with bipartisan support, will give ESPs a $500 bonus in FY24, as originally planned for FY23 and FY24. FY23 bonuses were limited by the approved budget, which included just over $8 million for ESP bonuses. This will likely reduce the FY23 bounty to half of what the MSEA and Bill were originally seeking. Nonetheless, the bill lays the foundation for improved ESP wages, and the MSEA will continue to fight for long-term ESP wage improvements at the local level through the collective bargaining process.
Hogan is also awaiting legislation to develop specific safeguards to support equity and higher quality virtual education if and when virtual instruction is provided. The MSEA testified in favor of the safeguards around virtual education that have passed House Bill 1163sponsored by Delegate Alonzo Washington (D-Prince George's), and in Senate Bill 362sponsored by Senator Paul Pinsky (D-Prince George's).
Virtual education legislation requires the Maryland State Department of Education (MSDE) to provide local school systems with guidance related to professional development and support for teachers to implement best practices virtual education and establish guidelines for virtual learning. This is just the beginning of the work to ensure that students receive the education they are entitled to when virtual options are used. If the law is enacted, the MSEA will monitor the implementation to determine if further improvements need to be made in the future.
The governor has until May 28 to sign, veto, or allow these measures to take effect without his signature. He has scheduled bill signings for May 12 and 16, but the bills to be signed have not been identified.
Blueprint makes gains in session; Expert analysis reveals that it will benefit the state sooner
The FY23 Final General budget of $61 billion which takes effect July 1 includes the legislature's addition of $800 million for year-round funding for the Blueprint for Maryland's Future Fund. The one-time increase was made possible by an estimated general fund surplus of $7.5 billion in fiscal years 22 and 23. The $800 million will make a significant contribution to maintaining the historic Blueprint plan and ensuring that more students in all corners of the state benefit from the expanded programs and staffing levels it legislates.
Additionally, new economic analysis from Sage Policy Group reveals that the Blueprint will cost state and local governments less in the long term and deliver an earlier return on investment than originally anticipated in 2019. This year, Strong Schools Maryland has again commissioned a study by Sage, which published a fiscal analysis of the Blueprint in 2019. The new takeaways are that despite the pandemic upheaval and Hogan's funding delay, the Blueprint will cost $16.5 billion worth of less to implement by 2032, and students who benefit from the educational improvements will begin contributing to the state tax base sooner and more robustly, bringing the three-year fiscal break-even point to 2038, compared to the initial estimate of 2041. The analysis of the Sage group is here.
NEWS AND NOTES
MSEA Hosts Roundtable to Inform State Board of Early Childhood Educator Issues
On Thursday, MSEA President Cheryl Bost and Public School Superintendent Mohammed Choudhury co-hosted a round table organized by the Maryland State Board of Education (SBOE) and MSDE for early and future educators.
"As we face difficult staffing shortages, we must be careful and deliberate about listening to educators and providing them with the resources, support and opportunities to ensure we continue to attract and retain diverse educators. and exceptional in our profession and in our classrooms," Bost said ahead of the event.
The conversation focused on teacher preparation programs and ideas to better support the recruitment and retention of early career educators. The recruitment and retention crisis was also highlighted on April 25 by Bost during the Blueprint Accountability and Implementation Board (AIB) meeting.
MSDE invites people to share their thoughts for future engagement opportunities here and to complete the Strategic Planning Survey guide the development of a multi-year strategy.
2022 CAMPAIGN
Endorsements in the Governor's, Attorney General's and Comptroller's races
High-level U.S. and state elected officials, as well as labor and environmental organizations recently endorsed statewide nominees. In the governor's racementions for Democrat Wes Moore include Steny Hoyer, U.S. House Majority LeaderBudget and Taxation Committee Chairman Guy Guzzone (D-Howard), House of Delegates Economic Affairs Committee Chairman CT Wilson (D-Charles), 2018 Democratic gubernatorial nominee Ben Jealous, Delegate Roxane Prettyman (D-Baltimore City) and delegate Geraldine Valentino-Smith (D-Prince George's).
In the Attorney General's Race, Delegate Wanika Fisher (D-Prince George's), Delegate Jheanelle Wilkins (D-Montgomery), Baltimore County Council Speaker Julian Jones and the Brotherhood of Railroad Flagmen endorsed Democrat Anthony Brown; and in the race of the controllerBaltimore County Executive Johnny Olszewski, former Governor Parris Glendening, Service Employees International Union (SEIU) Local 500and Environment America's Maryland Affiliate endorsed delegate Brooke Lierman (D-Baltimore City).
Court upholds General Assembly Legislative District map
The Maryland Court of Appeals ruled against the Republican challengers and upheld the state legislative district map that the General Assembly adopted in January. The court did not accept Republicans' claim that the map violates the Maryland Constitution's requirement that legislative districts be compact and respect natural and political boundaries. The primary election will take place on July 19, with early voting July 7-14.
The content goes here!