Minnesota Nurses Association announces strike vote scheduled for next week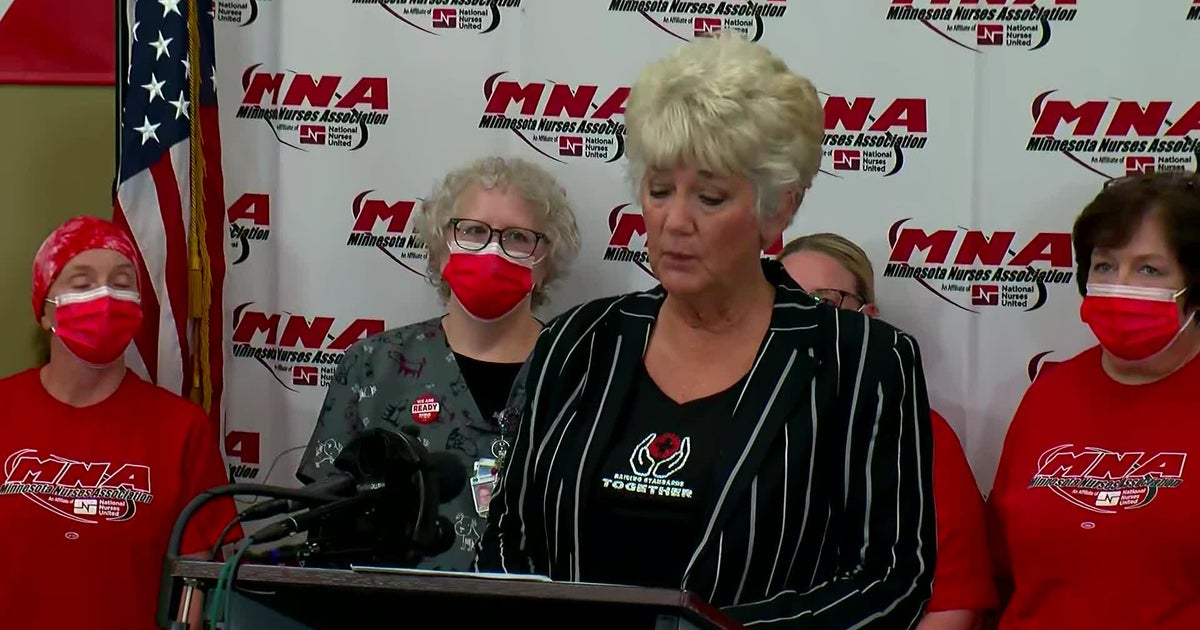 ST. PAUL — Nurses in the Twin Cities and Twin Ports of Duluth are lobbying their employers for better pay and safety changes.
The 15,000 nurses who make up the Minnesota Nurses Association (MNA) announced Thursday morning that they would vote on a strike decision. The vote to authorize the strike will take place on Monday.
"It's weighing on us. Everyday nurses are leaving," said Angela Becchetti, a nurse with Abbott Northwestern in Minneapolis.
Becchetti says staff shortages and retention are among their biggest concerns right now. For perspective, MNA says it has lost 2,000 members since the start of the pandemic. The shortage exhausts the nurses with extra workload and also impacts the patient.
"Patients sat there and cried because they felt they weren't getting the attention and care," Becchetti said.
Becchetti says another big issue is the safety of staff coming to work, with carjackings and armed robberies becoming all too common.
"We asked Allina to provide an immediate notification on my cell phone that says, 'Hey, stay out of this area. We want you to feel safe", and [Allina] says they are not interested. They don't want to put it in the contract for us," Becchetti said.
The MNA says these issues have not been resolved in negotiations with hospital officials over the past five months.
"That's why we're calling this vote Monday," Becchetti said, "it needs to be fixed and it needs to be fixed now."
Even if MNA members decide whether or not to strike, most agree that a strike is what they hope to avoid.
"No matter what we vote on, no matter how many days, even if it's just one day, we'll all feel like we're abandoning our patients in our hearts," said Mary Turner, president of MNA in a press release. conference Thursday inside the MNA headquarters in St. Paul, "They make us feel like we're greedy, when in fact all we're doing is trying to save our profession."
The strike authorization vote will require a two-thirds majority to pass. If passed, union leaders could set a strike date with at least 10 days' notice to employers, but could continue to negotiate and reach an agreement before a strike occurs.
Twin Cities Hospitals Group – which represents North Memorial, Children's Hospital, Methodist and Fairview – sent a statement to WCCO:
"We understand that the past two years have been challenging for everyone in healthcare. Our care teams have all worked exceptionally hard to care for patients and care for each other. Today, our hospitals in non-profit continue to recover financially from COVID-19 despite the financial difficulties of our hospitals, we are proud to have offered our nurses the largest salary increases in 15 years while agreeing to maintain nurses' benefits unchanged for the life of the hospital Contract.
"While the strike vote is the right of any union, we are disappointed that the leadership of the nurses' union has rushed into its strike vote and continues to reject our offer of an outside mediator. Mediation has been used successfully in previous contract negotiations, and we believe it is a practical way to bring focus and clarity to negotiations. We encourage the Nurses Union and its supporters to focus on the paths we have used successfully in the past.
"It is important for the public to note: our hospitals are open and will remain open to serve the community. Today's announcement from the nurses' union only reflects that they intend to ask their members to authorize a strike. That doesn't mean a strike is inevitable. We will continue our efforts at the bargaining table to reach reasonable agreements and avoid any action that would interrupt patient care. We assume the union will do the same. We remain committed to serving our community and focusing on the patients we serve."
Allina Health told WCCO in a statement:
"[Thursday] will mark the twelfth time we have met with the Nurses Association of Minnesota to reach agreement on a contract. We hope to reach a fair agreement that demonstrates our commitment to our valued nurses, while prioritizing the needs of the community in light of the ongoing challenges felt at Allina Health and across the healthcare industry at non-profit.
"We have offered an economic package which includes a 10.25% salary increase over the three years of the contract, as well as additional social benefits. We also demonstrated our commitment to many of the union's priority issues, such as diversity, equity and inclusion, safety and security, and recruitment and retention.
"While we are disappointed that the union is choosing to authorize a strike, our priority is to provide high quality care to the community. We hope that we will begin to see progress at the bargaining table and avoid possible work stoppages that do not benefit anyone. ."
Watch an extended version of the nurses' union press conference below: