Ukrainian nuclear power plants under Russian fire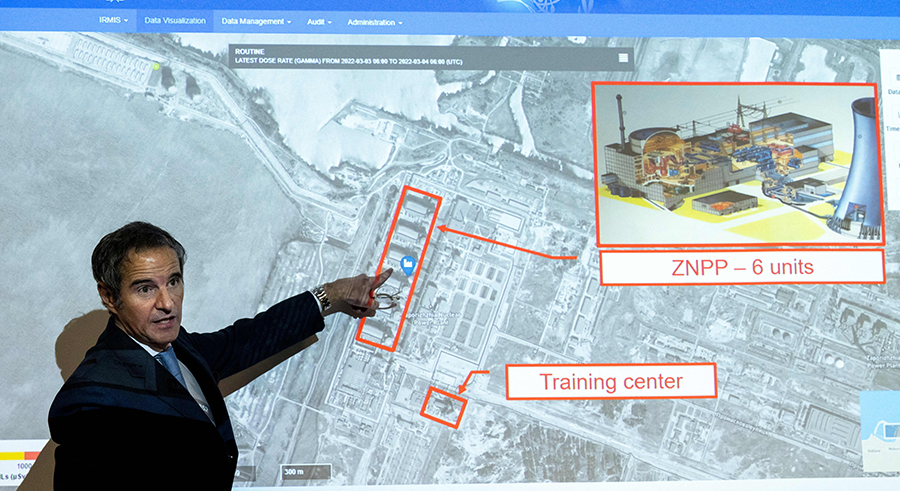 April 2022
By Shannon Bugos
Russia's invasion of Ukraine has increased the risk of nuclear disaster after Russian forces took control of the Chernobyl and Zaporizhzhya nuclear power plants, sparking fires at both sites. Ukraine said it regained control of Chernobyl on March 31 when the Russians left.
A projectile launched by Russian troops caused a fire at a training complex at the site of Zaporizhzhya, Europe's largest nuclear power plant, on March 4, although the flames were later extinguished. A Russian shell also hit one of the reactors, but the thick walls of the reactor's containment structure absorbed the hit. The plant houses six of Ukraine's 15 reactors, spread over four operating nuclear power plant sites. Together they supply about half of the country's electricity.
"Firing shells into the area of ​​a nuclear power plant violates the fundamental principle that the physical integrity of nuclear installations must be maintained and kept safe at all times," said the Director General of the International Security Agency. Atomic Energy (IAEA), Rafael Mariano Grossi.
At an emergency meeting of the UN Security Council on March 4, Russian Ambassador Vasily Nebenzya denied that his government was to blame. "A massive anti-Russian information campaign is underway," he said, claiming that Ukrainian forces attacked Russian forces patrolling outside the factory and set fire to the training building at the time. of their departure.
US Ambassador Linda Thomas-Greenfield criticized Russia's attack on the nuclear power plant as "incredibly reckless and dangerous". She said that"[n]nuclear facilities cannot be part of this conflict.
In a March 4 blog post, Ed Lyman, director of nuclear energy safety at the Union of Concerned Scientists, explained that "[n]one of the reactors was built to withstand a military assault. Ukraine's nuclear power plants are also "vulnerable to indirect fire that could damage critical support systems and surrounding infrastructure, potentially resulting in fuel meltdown and radiological release that could contaminate thousands of square kilometers of land," it said. he writes.
The IAEA reported on March 6 that a Russian commander had taken control of the management of the Zaporizhzhya site, including actions related to technical operations, and that Russian forces had cut off some mobile networks and Internet access. , interrupting communications between staff and the Ukrainian nuclear regulatory agency. This agency, known as the State Nuclear Regulatory Inspectorate of Ukraine (SNRI), provided the IAEA with updates on the situation.
"Employees of the plant are under strong psychological pressure from the occupiers," Energoatom, Ukraine's state nuclear company, said on March 11. "All personnel upon arrival at the plant are carefully checked by armed terrorists.
The IAEA reported on March 6 that technical crews had started rotating in three eight-hour shifts.
The dangerous challenges facing Zaporizhzhya personnel mirror those at the Chernobyl nuclear power plant, which has been under Russian control since February 24.
After 25 days of non-stop work, more than 200 Chernobyl staff were finally allowed to switch shifts and return home, with half leaving on March 20 and the rest a day later. But 13 personnel refused to rotate, and most Ukrainian guards also stayed, according to Ukrainian officials.
Chernobyl personnel deserve "all our respect and admiration for working under these extremely difficult circumstances," Grossi said March 20. "They stayed there way too long." A nuclear reactor exploded in Chernobyl in 1986, leading to the eventual shutdown of the plant's reactors. The nuclear power plant, located inside a large exclusion zone, is no longer in operation.
For nearly 600 hours while held at gunpoint by Russian forces, facility personnel responsible for safeguarding spent nuclear fuel and radioactive waste slept when possible at their posts. from work, survived on a severely diminished diet and had their phones confiscated, according to a March report. 15 report per The Wall Street Journalwho managed to talk to workers stuck inside.
Some maintenance and repair work could not be completed at Chernobyl due to "psychological, moral and physical fatigue of personnel", the SNRI said on March 19.
Earlier this month, Russian forces also twice damaged the facility's power line, cutting the plant off from Ukraine's power grid and jeopardizing spent nuclear fuel rod cooling systems. Kyiv also reported on March 22 that Russian troops had destroyed a laboratory that processed radioactive waste and performed other "strategic and unique functions."
The outbreak of multiple seasonal fires around the site further aggravated radiation problems at Chernobyl. Russian forces controlling the plant thwarted efforts by Ukrainian officials and firefighters to extinguish the flames.
Grossi began separate consultations with the Ukrainian and Russian foreign ministers on March 10 in Turkey to establish a framework for ensuring the safety and security of Ukrainian nuclear facilities. The potential deal will make "no political reference to the situation in the factories or any link that could be construed as legitimizing anyone's presence on foreign territory", he said on March 21, adding that he hopes reach an agreement "very soon". ."
The chairs of the US Congressional Task Force on Nuclear Weapons and Arms Control—Sens. Ed Markey (D-Mass.) and Jeff Merkley (D-Ore.) and Reps. Don Beyer (D-Va.) and John Garamendi (D-Calif.) — sent a letter to U.S. President Joe Biden on March 14 suggesting that "the technical expertise of [IAEA] should be made available to monitor and advise on the rapidly changing situation on the ground.
They urged him "to find ways to encourage the involvement of the IAEA in monitoring" Ukraine's nuclear power plants.
Chernobyl is located along the invasion route from northern Russia to kyiv, less than 160 km south of the plant.